Introducing: the British Medical Association (BMA)
The BMA is a trade union that gives a powerful voice to doctors and medical students across the UK. They lobby and campaign for the best terms and conditions to help advocate for a healthy population with outstanding healthcare. Through layers of governmental and representative involvement, BMA negotiates, researches and influences positive change within the global health community. 
The International Conference on Physician Health (ICPH)
The ICPH is a forum for physician health professionals from around the world, organised every two years to get together and discuss the field. BMA's own Conference Manager, Caroline Eason, says: "The conference showcases innovative research in physician health as well as providing a friendly and relaxed environment for service providers and users to meet and network."
Pre-pandemic
The forum offers a unique opportunity for visitors and exhibitors alike to mingle and encounter opinions, research, innovation and stories. The event includes watching and enjoying plenary sessions, workshops and lectures. The conference also hosts scientific poster exhibitions and trade stands. In past events, a physical environment allowed participants to meet and interact.
A Pandemic Struggle
Unfortunately, like many events worldwide in much of 2020 and 2021, ICPH 2021 was unable to host an in-person conference due to the COVID-19 pandemic. "We needed to find a suitable virtual alternative for our planned in-person conference, which was due to be held in person in London.", says Eason. "We needed the virtual conference to be user-friendly and in some way replicate the atmosphere and environment of the in-person events we successfully staged in the past."
BMA needed to find a platform that offered the correct functionality to replace all the features of an in-person event. Eason: "The biggest challenge was finding a platform that would work reliably for all participants, and that could replicate the professional but friendly, fun and relaxed conference atmosphere."
Let's Get Digital to the rescue
After searching for a suitable platform, BMA eventually landed on us: Let's Get Digital! With a clear set of goals, the teams at BMA and Let's Get Digital quickly began the setup process. With both teams fully immersed in the conference, everything worked like a charm..
"We really appreciated having regular, scheduled meetings to go through our checklists and cover any queries." After a few demo events, the BMA team quickly got a clear vision of what was possible.
"It was very straightforward, and the setup team was very quick and helpful in their responses to our questions." says Caroline Eason, she continues:
"The entire team was friendly, professional, timely and an expert in their approach and responses to our many questions."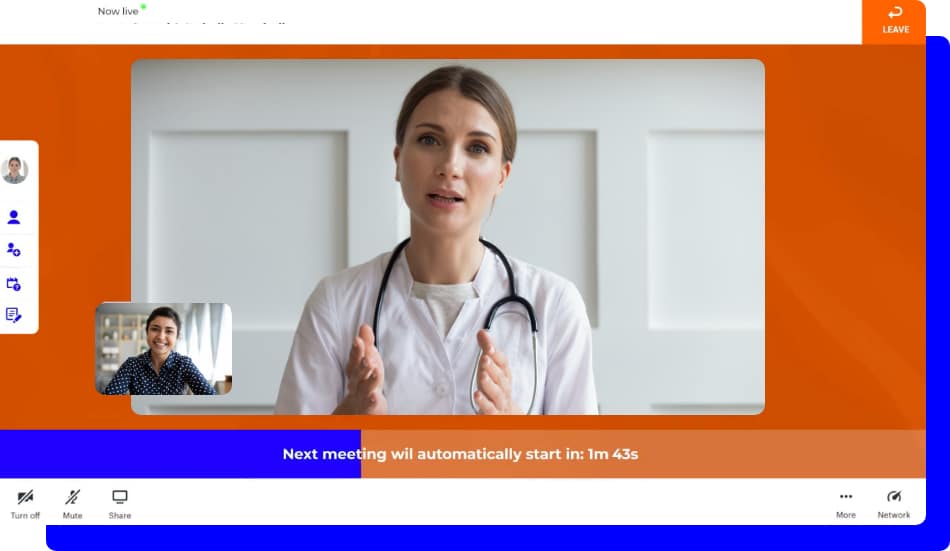 Overall experience
"From an organiser's perspective, with a significant number of virtual events already 'under our belt', we could not have been more pleased with how the event went. The platform was easy to use and intuitive for most users, looked clean and fresh and was really different from many other tools that people had previously used. Users found very few difficulties using the platform, and our presenters were really impressed with the number of different tools that were available to them in the meeting rooms."
According to the speakers
"Our speakers found the platform impressive, and we received lots of positive feedback about the ease of access to the online meeting rooms and the range of presenter tools available. It was a huge advantage for presenters to be able to rehearse in their own time once the platform was opened to them. This gave them time to become familiar with the online environment and gain confidence to deliver excellent presentations."
According to the sponsors
"We had a small number of exhibitors, and their feedback was positive and high levels of engagement were reported."
On behalf of the participants
Most attendees rated the online event platform as excellent. Comments received included:
– Very impressive website. The virtual links, communication, instructional videos and entry to rooms were excellent. Overall, quite an incredible virtual platform.
– Very unique and a pleasure to navigate!
– Super!! Excellent platform. Lovely features. Very easy to use.
Benefits of the virtual
Though going virtual had initially been a consolation due to the pandemic, BMA realised some significant benefits of a digital platform. "We were able to accommodate a much larger number of attendees than would have been possible at an in-person event." Even time-zone differences were no problem, with on-demand viewing.
"It certainly made the event more affordable for many people who would otherwise have to pay travel and accommodation costs. It meant that people who would otherwise have found the event impossible to attend, could participate actively.", says Eason.

In the end
The 5-day virtual ICPH 2021 was a complete success. With the help of Let's Get Digital, BMA was able to digitalise its event completely. From workshops to trade displays, every aspect of an in-person event became accessible to anyone worldwide. Not only was the team able to run a full event despite the pandemic, but they were able to recognise some other benefits of an online environment.
With a slew of positive feedback from participants, exhibitors and sponsors, the event could not have gone better.
"It has been a pleasure working with the whole team!" adds Caroline Eason
If you have any further questions about how Let's Get Digital helped the British Medical Association run its event, or want to know what we can do for you: reach out to us!