Thanks to the COVID-19 crisis, the world we live in is becoming more and more digital. The "new normal" is often talked about. This also applies to the events industry; now that physical events are almost no longer possible, online alternatives are already on the rise.
Naturally, it takes some getting used to in the beginning. Before COVID-19, you might have been to a webinar – but an event hosted entirely online still sounds a bit crazy. However, how do these turn out in reality? Online events work, and sometimes even much better than physical events. How do we know this? We regularly ask our clients for feedback.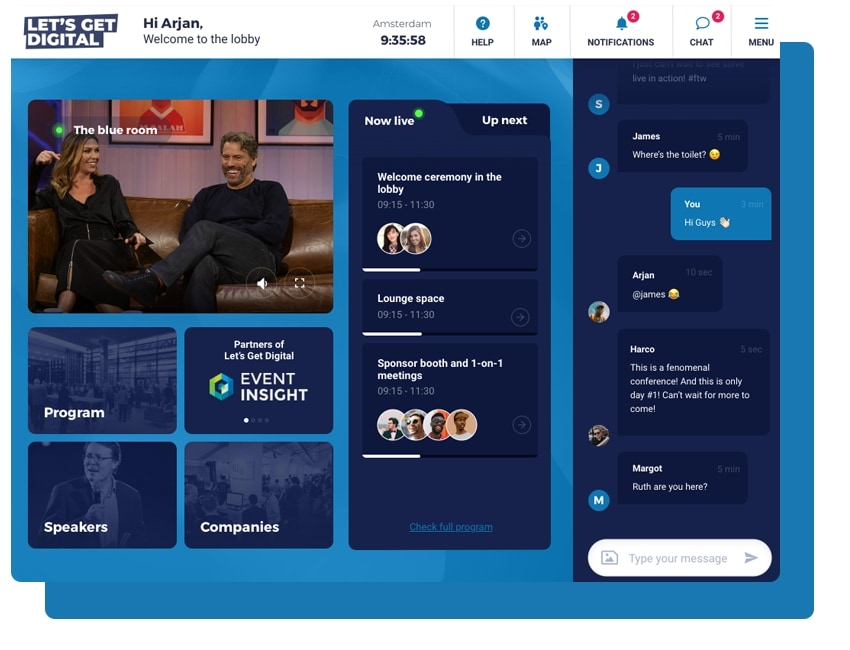 The possibilities of online events are enormous.
We even think they're an integral part of our "new normal". Not now – but, not in the future either. That's why we've listed the five most important advantages of online events for you, according to our customers:
1. Cost-savings
Here, we don't just mean cost savings in Euros, but also in time. Just think of all the components that an event organizer needs to arrange in order to make an event a success: location, technology, catering, speaker logistics, permits. You've also got specific concerns for the speakers: they have to go to the event and typically wait a long time before they actually speak. As well, visitors often invest a lot of time and money; think about travelling to the location, paying parking fees and booking overnight stays.

2. Sustainability
Online events are much less harmful to the environment. Imagine a huge international congress with some 1,400 visitors from all over the world. A large part of these visitors will come to the location by car, or even by plane. This creates an enormous carbon footprint per event, with tons of kilograms of CO2 emissions.
With an online event, these CO2 emissions will be reduced. It doesn't stop there: how about all the food that is saved and the amount of waste that is reduced because the event is organized online?

3. Accessibility
By keeping an event online, it is much more accessible for all visitors. Just imagine: someone who normally wouldn't have the money to travel to an international medical congress can now attend. In addition, he or she also gets the opportunity to speak to one of the keynote speakers while networking. How is that possible? We'll get to that now.

4. Networking
The main reason for visiting an event is often to get to know new people. This may seem like a challenge for online events, but many digital solutions are already available that make networking even more effective and accessible. For example, we use a matchmaking system on our platform. Users are matched to each other based on their interests. They can also be randomly matched with each other. The matching system has a number of advantages.
First of all, it lowers the threshold for networking. Almost everyone finds it exciting to run into a stranger during an event. You don't want to disturb someone in a conversation, or even worse: get rejected. By being matched, you can get in touch with other people in an accessible way. You get out of your own networking bubble faster.
Another advantage of this system is that it works efficiently. In a short period of time, many people can get in touch with each other. Since they have limited time to talk, they get to the point faster. Should it be the case that they want to keep in touch to talk further, they can exchange their contact details.
Interaction and networking in such a case works easier in a digital environment than physically. This is true during the event, but also afterwards. Speaker Bart Joling, for example, has already spoken to several visitors after the event and even got business out of it.

5. Data Collection
This is perhaps the most interesting aspect of online events: the data. After a visit to a physical event, you sometimes receive a survey in your mailbox; but how often do you fill it out? At an online event on our platform, everything is logged. This enables organizers to use smart tools to collect data during the event.
Organizers, visitors and speakers receive a personal report with all kinds of insights about the event. This makes it easier for visitors, for example, to find people they have talked to. This data is also very interesting for an organizer. The obtained data makes it easy to measure results: Where do the visitors come from? Which speakers were the most popular? How much CO2 emissions did we save by hosting our event online? These results can be used to see where opportunities lie and to improve upcoming events.

It remains human work
Despite all the digital possibilities, an event is still the work of real humans. This became clear during an event of one of our clients, Monique van Niquell. A small mistake during the event did not lead to her frustration, but on the contrary: it confirmed for her this exact idea.
Curious about organizing an online event? We'd like to discover the possibilities with you. Send us a message at info@eventinsight.io or call us at +44(0) 2039 662417.