Since the launch of Let's Get Digital, we have invested a lot of time in building great features on our platform. This is how we make our slogan "digital that feels like physical" come true.
In designing our platform we started with a very important question: what is the visitor's journey? In order to map this out, we went through the steps of a physical event. The most important elements that come back in every physical event have been redesigned so that they fit into the ultimate digital event experience.
In this blog you will find the five most awesome possibilities we currently offer on our platform: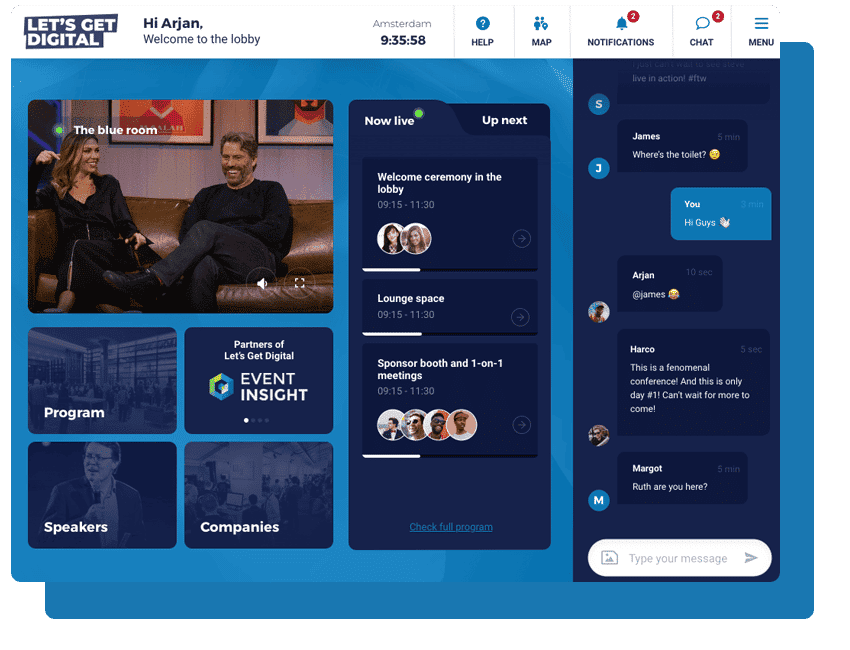 1. Check-in
The big day has arrived and visitors are slowly pouring in. They can't enter the hall yet, because…what, of course, is the very first thing you encounter as a visitor when you arrive at an event? That's right – a check-in!
This was the first option we implemented in our platform. Just like during a real event, online events on our platform include a check-in process. The visitors wait before going inside and receive their own pass. This great feature immediately imitates the real event experience, making visitors feel like they're in a live event before they even enter.

2. Exclusivity
Denied! Looking around, some visitors didn't show up in the first room. To make the event's access pass more meaningful, we built in an option with a real bouncer. This person checks your ticket before the door opens. And maybe it won't open at all…
This option allows you to distribute VIP passes to predefined visitors. For example, they can then see more content than others, or enter rooms that others cannot enter. This gives an extra piece of experience and exclusivity, which makes your digital event unique.

3. Network Carousel
"Am I already live?", the first speaker asks, breaking the ice. In the chat, visitors occasionally ask questions or respond to one another. This already makes it a lot more interactive for the audience than just listening to a speaker. But we're not done yet.
In session chats, visitors briefly get in touch with each other, but this doesn't compare to the social aspect of a physical event experience. Afterwards, you're often full of ideas, or you want to spar with other visitors – so, networking. In order to address this, we had to do more with our platform.
How do we get all those visitors in contact with each other, without it becoming chaos? After some brainstorming, we came up with the idea of a network carousel, where visitors talk to each other one-on-one. We started to do this, with success. We get a lot of positive feedback on our digital network carousel.
By means of an algorithm you will be matched with another visitor based on your interests. Of course, there's also an option to do this matching randomly – and that's a lot of fun too! Then, you'll be matched with people you normally wouldn't talk to.
One of the fun things about the carousel is the limited timeframe. This is determined in advance by the organizer of the event. The event visitors in the carousel can't extend this time, so you really get to know each other in a short time. Afterwards, you can see who you have talked to, and you can exchange contact information.

4. Data
The event is over. You've made a lot of nice contacts in the chat and during the network carousel. But in all the hurry, you forgot to ask some people for details. Trying to find them again?
Luckily, you can. All event organizers, visitors and speakers get a personal report with all kinds of insights about the event. This way, you as an event organizer discover the exact impact of your event, and as a visitor what your personal impact is, data-driven!
The speakers at the event even get data-driven insight into their presentation. At a physical event, you don't just walk out of the room – if you did, you'd have to walk in front of people and perhaps interrupt the speaker. At an online event this is very different. That's why we give speakers insights into issues such as attention value and involvement. When was the audience involved in the presentation and when did the attention decrease?

5. CO2 calculator
Before this, we were already talking about impact. This is both the impact you have on people, and the environment. Replacing a physical event with an online one makes quite an impact. One of the biggest advantages of a digital event, besides the fact that it saves a lot in travel time and costs, is that it is much less harmful to the environment. We don't just say this; we also measure it! With the CO2 calculator in the event, people can fill in where they live, or we can estimate where they live. Based on this, we calculate how many trees are saved, and how much CO2 per person is reduced. It's a nice cherry on the digital sundae!

Here to stay
Everything we do at Let's Get Digital is driven by our mission to improve events, while making a positive impact on people and the environment. With our platform, we offer fully digital events as a worthy alternative to physical events. With options such as check-in and a network carousel, visitors feel completely immersed in the event atmosphere. It's digital that feels like physical!