Hybrid event software unlocks excellent potential for event managers that want to expand their audience, getting speakers aboard more cost-effectively and unlocking ways to give sponsors a new way to be present at events. After the event, the hybrid event technology provides ways to do an in-depth analysis of the performance of your event. This way, you can keep improving your attendees' experience in the future.
If you would ask any event manager if they would like to benefit from this, the answer is probably: "yes, please!" But what should the event manager pay attention to when picking the right hybrid event management software? Our delivery consultant Anastasia Mikulcik shares the five essential learnings that guide you towards choosing the right event management technology that fits your needs.
*With our whitepaper you surely are!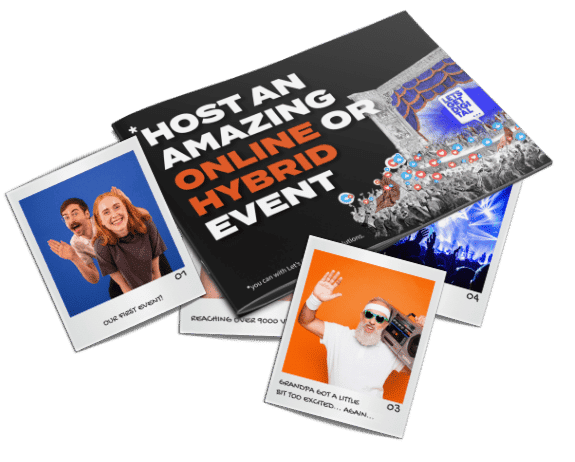 #1 Choose software for hybrid events with the right features for you
Hybrid events can lift your in-person and virtual events to the next level. The virtual possibilities of today help you improve the experience of both on-site attendees and those who attend remotely. These features are unlocked based on your hybrid event software provider's functionalities within their platform. To pick the right platform with suitable functionalities, you should define what you think is important to your audience and how technology can contribute to delivering a remarkable hybrid event experience.
So, in short, your starting point for choosing a hybrid event platform will be the goals of your event. This way, you can define how you want to melt together the virtual world within your hybrid event and what the virtual experience of those attending online will look like. We want to share some potential benefits that helped our clients reach their goals after combining virtual and in-person events. Find an overview below;
Reach a global audience within different time zones
Reduce your carbon footprint by reducing travel
Sponsors and exhibitors can be present in an innovative way
Reduce the cost of catering, locations, and travel expenses for speakers
Increase returns by improving the experience of your audience
#2 Software for hybrid events should make your life easier
When you consider using hybrid event software, it's crucial to have an interface that is easy to use. As you found the features of a hybrid event software platform that support your goals, it's not only about improving the event itself. Hybrid event platforms can also make the life of event managers easier. Going hybrid means managing both your online and offline events within one platform. This way, you can keep the overview and enrich your attendees' experience within the same interface.
Once the event ends, you will have the ability to do an in-depth analysis of the performance of your event. The technology generates data you can use to report to visitors and stakeholders. This way, you can proactively optimize future events based on facts and figures. These hybrid event analytics will make your future events even better. You only have to create a winning setup with the event software once you can start replicating your future events way more effortlessly, saving you time and budget. These savings result in extra time to focus on optimizing your next event with new/additional features that delight your audience during the next event.
#3 Software must lower the threshold to start connecting and networking
In a way, you want a platform that creates a unified experience for both the event managers and attendees of the event. The technology enables you to organize a hybrid event that gives both on- and off-site visitors the idea that they are equally essential and can interact when they want. Interaction should be a vital part of your hybrid event, as leaving this potential untapped is a waste of the software's added value.
Hybrid event software can improve the possibilities of making valuable connections between attendees of your event. Networking during an event was an option solely for in-person events in the past, but today's event platform also offers an excellent way to connect for those who join remotely. Besides that, the software allows you to interact with visitors before, during, and after the event. Valuable hybrid event software improves the connection among visitors and between visitors and the event organizers simultaneously.
#4 Choose a software partner who is there for you
Setting up your hybrid event will be easier when you have a hybrid event software partner who knows you and your event's goals. This way, you can use the platform's full potential in the most efficient way possible. Besides that, a good partner can set you up with the right A/V experts to integrate live streams and recordings or solve any technical challenges in the run-up to a hybrid event. Besides that, you want to have your partner there for you once there is any question during the event. This way, you and the hybrid event software provider work together to make your event a success from start to finish.
The best hybrid event software
Hybrid events are here to stay. The recent pandemic pushed us towards virtual alternatives. We, of course, want to visit events in real life again. Still, visitors also experienced how convenient following a hybrid event remotely can be without giving in on the experience during your attendance. While more event managers are exploring hybrid event software solutions, the technology will keep developing, and more features will arise in the future.
Hybrid events allow you to find a bigger audience and interact with them simultaneously in the virtual world and real life. This way, you have no limitations in the capacity of an event location and can even work with different time zones. The only thing necessary is an internet connection. Not only your attendees will benefit from this. But you can also attract more interesting speakers as they are not bound to visit your event on-site. A development that results in the best hybrid event software that has that wow factor and keeps your audience coming back time after time.