An explanation of the hybrid event by Let's Get Digital – with examples!
Not all of us have been following the latest developments in (hybrid) event organisation, and that's no biggie. Hybrid events are everywhere at the moment, so we figured it would be good to set up a general definition, with examples of our own hybrid even platform. Even if you are fully aware of what a hybrid event is, reading this blog will be worth your time!
What does a hybrid event mean?
Literally, hybrid means "cross-or inter-breed". So it's a combination of two things, to create one new thing. Something that can exist on its own, even though it consists two parts that are not likely to be fused. You might know the term from the car industry. With the rise of electric vehicles, a lot of manufacturers started producing hybrids: cars that can run on both gasoline and electricity.
In the event industry, the hybrid event is a combination of online and on-site experiences. This type of event gained momentum in the past two years. The closing down of event venues In combination with the multiple lockdowns that caused attendees to stay at home, event organizers had to look for a new shape and form. Using event platforms such as Let's Get Digital, they created an online space in which events could take place and could exist even in peak-covid times. Now that the world seems to open itself up again (at least, in the Netherlands this development is currently taking place) event organisers are fusing the virtual experience with the on-site experience. Et voilá, the hybrid event was born.
Hybrid event trends
The hybrid event started as a trend in itself, but we firmly believe that this construction and way of organising events is here to stay. And you can feel it: within the hybrid event itself, trends are starting to emerge. That's a clear sign that this form of event hosting goes beyond just a temporary fling – which we encourage!

As we keep a close eye on new developments within the hybrid event, we can select a few important elements. Don't be surprised if they become increasingly important for your own hybrid event in the coming few months!
Provide an almost seamless integration of technology
Allow interaction between in-person audiences and virtual audiences. This means that the look, feel and user experience of the virtual addition, such as an app, should be spot on. So your on-site visitors actually use it like it's second nature. Make the hybrid event experience seamless!

A Let's Get Digital example. Use the interactive app to integrate the virtual experience into the on-site experience! Start merging to create your hybrid event. Visitors that join your event online will receive an interactive map that shows them exactly in which room speakers are busy giving their best keynotes, or their most inspiring workshops. Those rooms can be named exactly like the rooms in real life.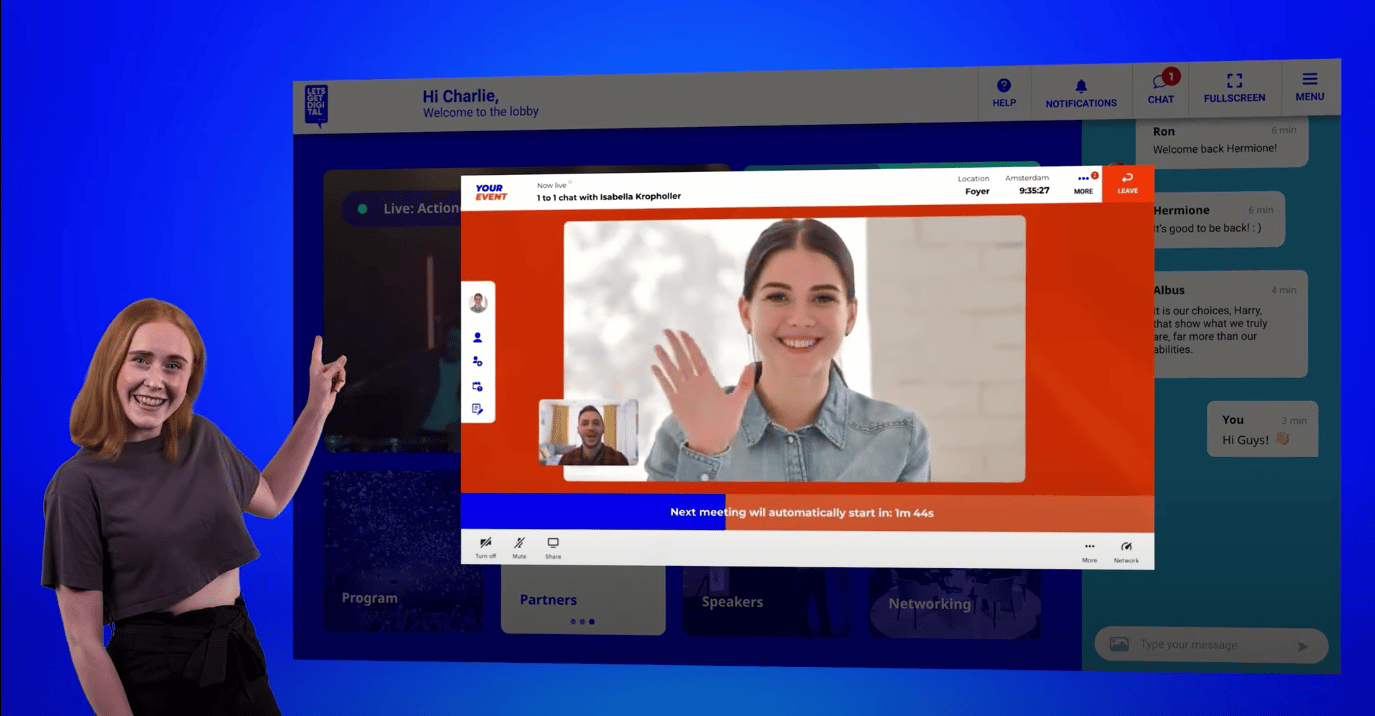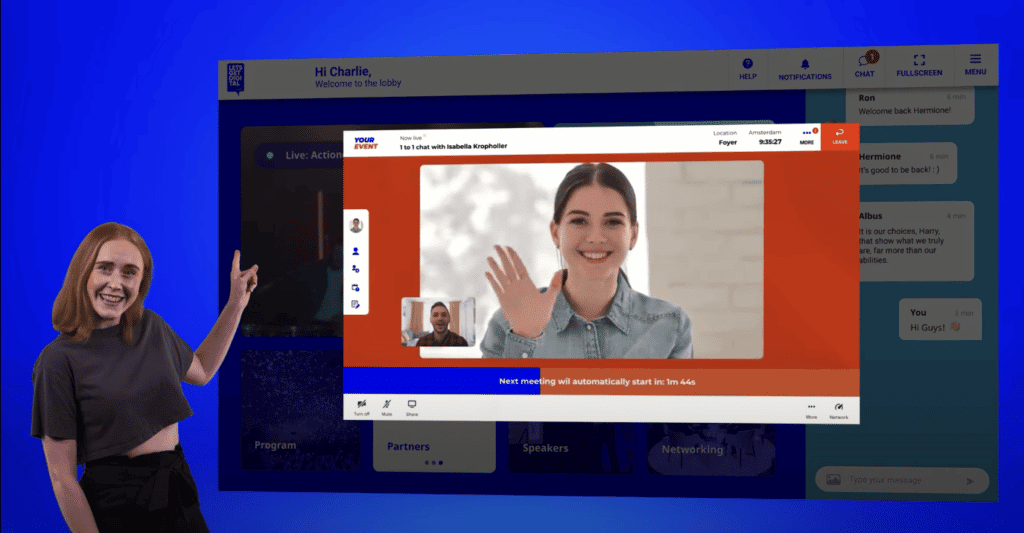 Create shared and unique experiences for all your attendees
It does not matter in which form you attend a hybrid event: it's always nice to know that you are being seen. Creating meaningful experiences during your hybrid event, inspires and motivates the attendee, so make sure you provide space for those opportunities and let them light the fireworks.
A Let's Get Digital example. Creating meaningful experiences, that's what we strive for. There are plenty of opportunities for the visitors to get in touch with each other during a hybrid event, and those connections are where the real magic happens! During a hybrid event hosted by Let's Get Digital, visitors can join a networking carousel, take a seat at the networking tables and interact during the whole event. We also have a couple of tricks up our sleeve to create meaningful memories during your hybrid event – but you will have to figure that out for yourself!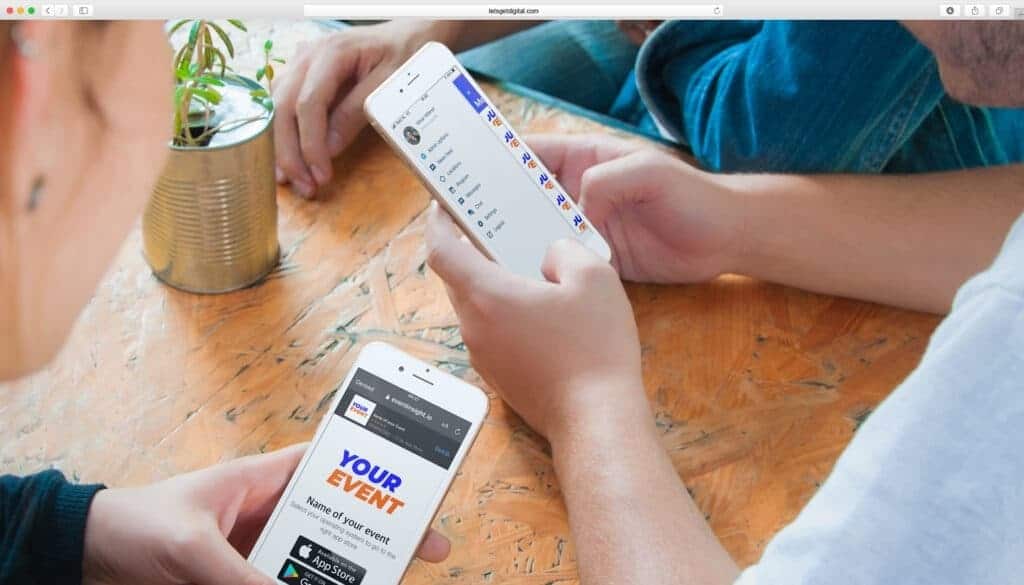 Create additional exhibitor and sponsorship opportunities
during your hybrid event. Use features that create possibilities for your exhibitors and sponsors, give them the opportunity to show their best side and interact with the visitors, whether they are online or on-site.
A Let's Get Digital example On our platform we have special booths dedicated to exhibitors. At this booth, online attendees can chat with someone that is present from the organisation, watch videos and check out their online content. This makes it accessible for the visitor, and makes sure your exhibitors can show the best they have in store. The booth they get is fully customisable, so they can make sure it's recognisably theirs!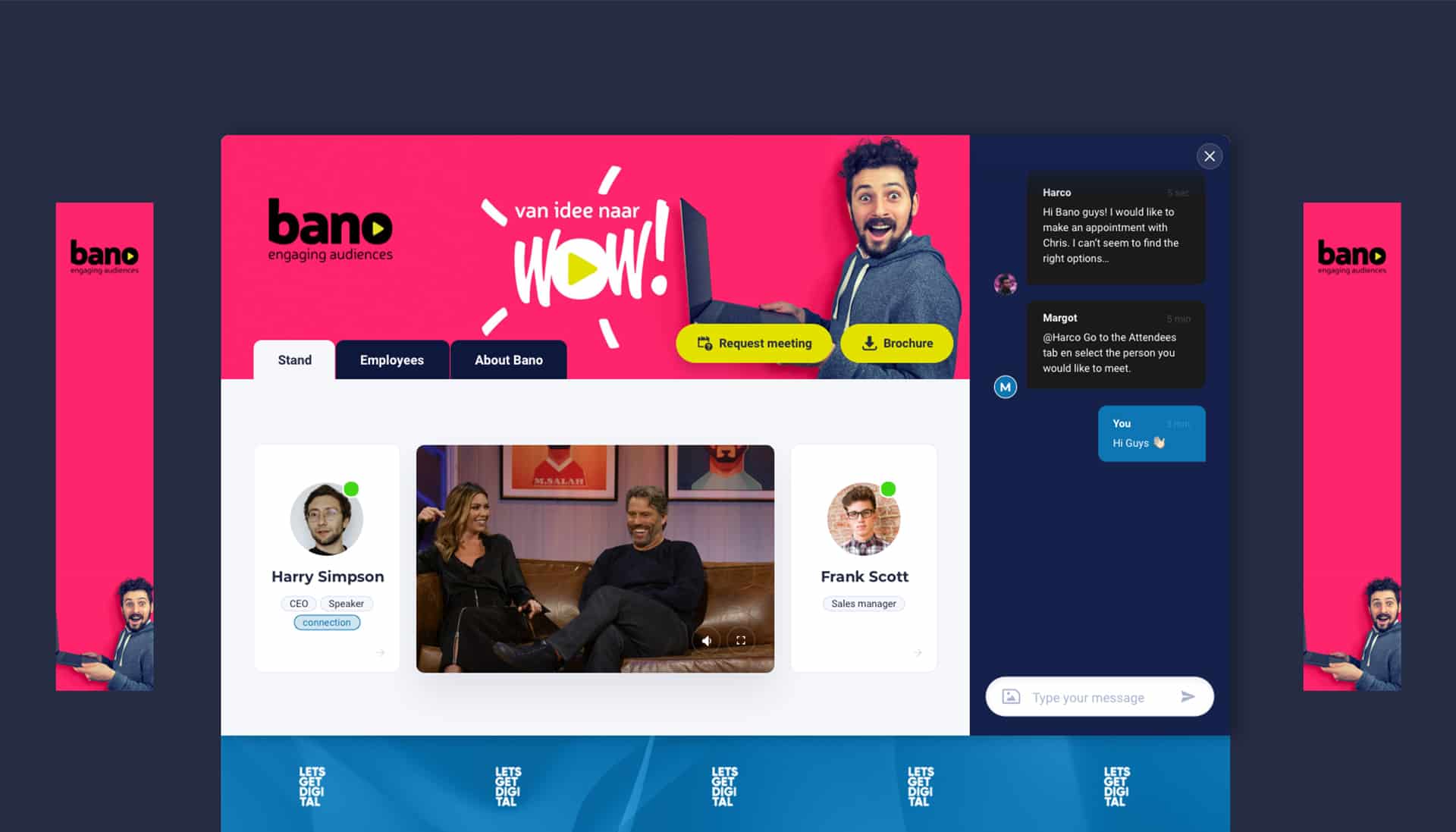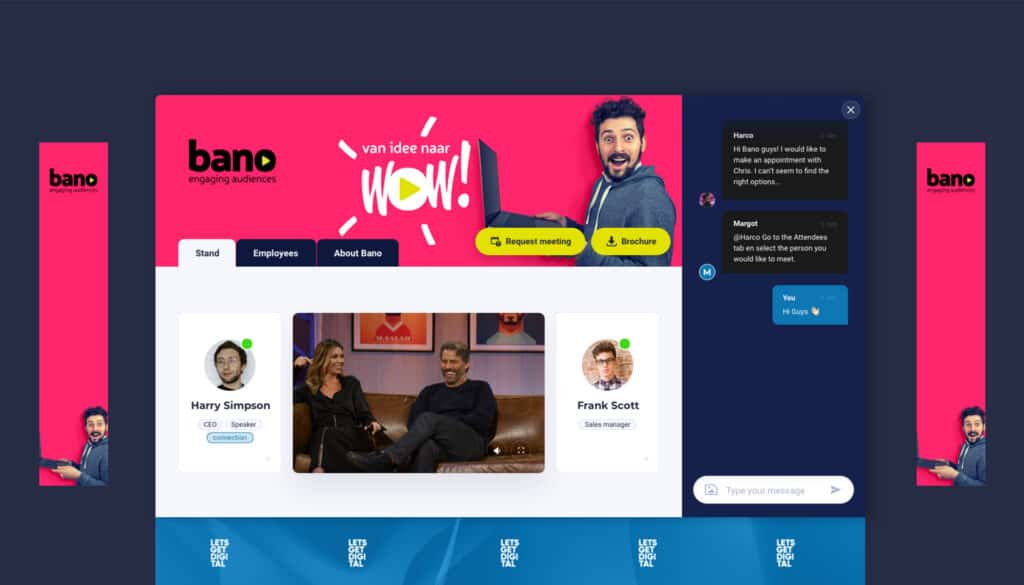 Hybrid events are the future
…and the future is now!
Getting back to on-site experiences will exclude quite a number of people. The online attendance possibility created the opportunity for more people to join, despite their location. Hosting a hybrid event allows more people to join, and therefore makes your event more inclusive. We've all been through the pandemic, so we know how great it is to actually still feel part of an event, even if there was no possibility be there physically! We firmly believe that hosting a hybrid event is the future. Join the future today!
Merging on-site experiences with virtual participation creates a lively mix that will create memories that are not only fondly remembered, but also remembered forever!