How to select the right virtual event platform for your event
Finding the right virtual event platform is crucial for your event to be a resounding success. Especially after Covid-19, there has been an increasing demand for online event platforms; and by now, there are a vast number to select from. Event professionals, as a result, have an overwhelmingly long list of providers to sort through to determine the best fit for their event. 
We prepared a guide to help you define the must-have and unique features for your platform needs.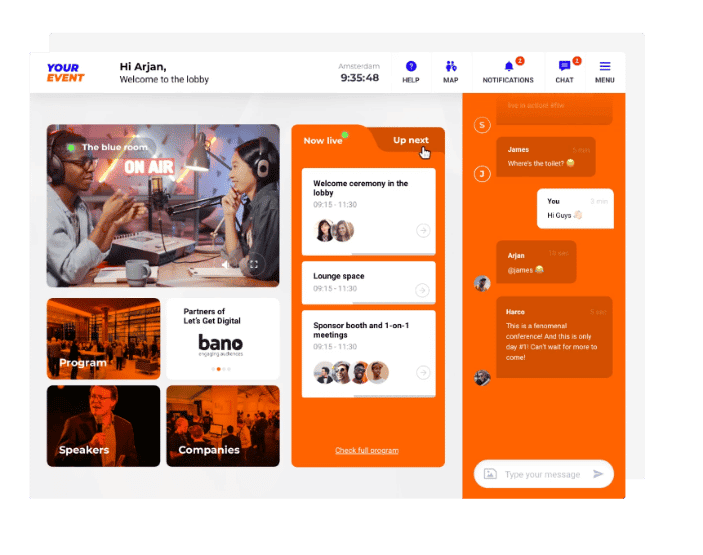 What is a virtual event platform?
Virtual event platform is a software that allows you to create and host online event experiences. Most virtual event platforms aim to bring the physical event feeling into the digital environment. They are most commonly used for webinars, virtual conferences and summits, networking events, hybrid events, training & workshops, tradeshows & expos, award shows & talk shows, fairs & festivals, medical and academic conferences.
As an event professional, you and your attendees can benefit from a well built, all-in-one virtual event platform in many ways – but the most impactful benefits are a lower budget, more extensive reach and sustainability.
Virtual event platform benefits
Budget
Hosting a virtual event will save you on a lot of costs such as your venue, travel, catering, accommodation and many more.
Reach
Your event won't be limited to just in-person attendees, or those that live close by; instead, your event can be accessed by anyone from around the world.
Sustainability
You'll have the chance to make a great impact on the environment by reducing the CO2 emissions created from attendee travel, the shipping of equipment and goods, and venue operations.
Define your virtual event platform goals
Firstly, you should define the primary goal you are hoping to achieve with your event. How do you determine when your event is successful? Is it whether you stay within the budget or when you reach specific objectives? According to EventMB's 2021 Year in Review, 91% of the event
professionals measure their event's success based on attendee satisfaction.
You and your organisation should align your expectations, and determine measurable KPIs. This way, you will be able to create SMART goals for your event and prioritize your focus on those goals.
Not sure how to define a SMART goal for your event? Get in touch with one of our event experts to help you out.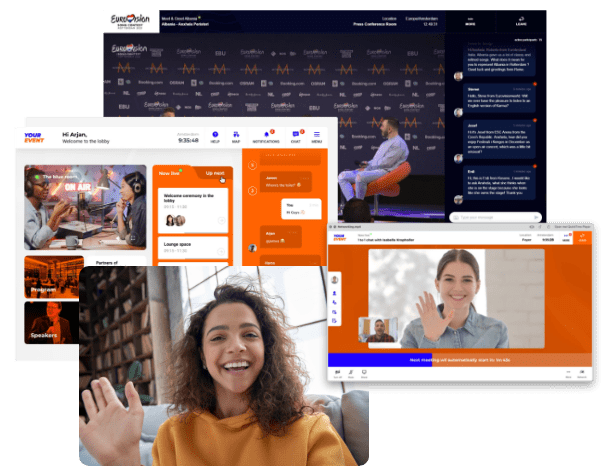 Must-haves features checklist
No matter what type of virtual event you'll host, there are a few features that are essential to look for in your virtual event platform. You should first ensure these criteria are met, before you refine your search for features based on your event's specific needs.
A user-friendly design is a must-have feature for both yours and your attendee's experience. As an event organiser, time is a precious resource; don't waste yours trying to figure out a complicated and unintuitive platform. Your attendees become users once they connect to your platform. They should be able to navigate themselves around with ease on the platform, to get the most value out of the event.
Recent years have shown us that we should be prepared for anything and should invest in future-proof technology. A platform that supports all event types (online, hybrid or in-person) will allow you to reach your long-term goals. This way, your investment is sure to support you now and throughout the future, no matter how the event industry changes.
You should be able to stream live and pre-recorded content, and to record and download post-event content. You can offer a richer program, eliminate glitches and showcase high production content with pre-recorded content. You should also check if your platform can support high quality audio visual equipments wihtout any glitches. As an event manager, you also want to be able to easily download recordings and utilise them post-event. This way, you can share your content with those who couldn't join, generate leads with on-demand downloads or even monetize the recordings for more profit. Ask your provider if they provide recordings after the event. Make sure you know: how long does it take to receive the recording? Most importantly, is it in the right format that you are seeking for?
One of the most important benefits of online events is the ability to get real-time and post-event analytics. Many event managers use these data to measure the event's success and improve their next event. You want to choose a platform that can offer as many different kinds of analytics as possible: downloads, engagement rates, exhibitor booth attendance, lead generation, networking, and clicks to name just some possibilities. Check what types of data your provider can offer and make sure that it's all compliant with GDPR.
While organizing an event, you already have many different stakeholders, touch points and tasks. The last thing you want to do is to switch from one tool to another while realising these tasks. Therefore, you should simplify your virtual planning and save time, money and energy by opting in to an all-in one solution. Your one stop-shop will centralize all your tasks related to your event, from creating your virtual event environment to the registration process. You can then focus on more important things and not worry about spending too much effort in setting up your event using multiple tools.
A robust virtual event platform should have a strong customer service team that you can count on. You shouldn't spend hours trying to figure out any problems or glitches. Check if the provider already has a Knowledge Base to start with. Their support team should be easily accessible through multiple channels, including live chat, email, or on the telephone. Depending on your package, some providers offer a dedicated support engineer to your account and training for you and your speakers as well. It can save you lots of time to get some help with set-up and training, and outsource these sorts of tasks.
Experience our virtual event platform for yourself. We've got you covered in 2 ways: a personal tour in multiple languages or our Let's Get Digital Expert session you attend with others as an event.
Features for your unique needs
After covering the must-have features, we prepared a list of unique features which we think you should look for in your virtual event platform to stand out with your event. 
Customization and branding options
Events are great opportunities to showcase your brand. The ability to customize your virtual platform with your own branding and style is one of the most important elements for this. Event platforms offer certain customization options for the design, layout, and pre- and post-event engagement.
It will provide a consistent experience to your attendees as they check-in to the event immersed in your brand. Your attendees can also benefit from customization options by being able to edit their own profile, avatar or agenda on the platform. 
Integration with other tools
A modern virtual event platform should easily connect with most of the third-party tools you are already using. Seamless integration with other systems will help you save time so you can focus on creating a memorable event instead of investing your efforts into figuring out how to connect all the other systems.
Your platform should already offer all the necessary integration you may need for your event such as a certain payment tools, registration platforms, an app or video/streaming tools. Pay attention to the limitation of the integrations as well. Many platforms can connect to other tools, but the data they transfer is very limited.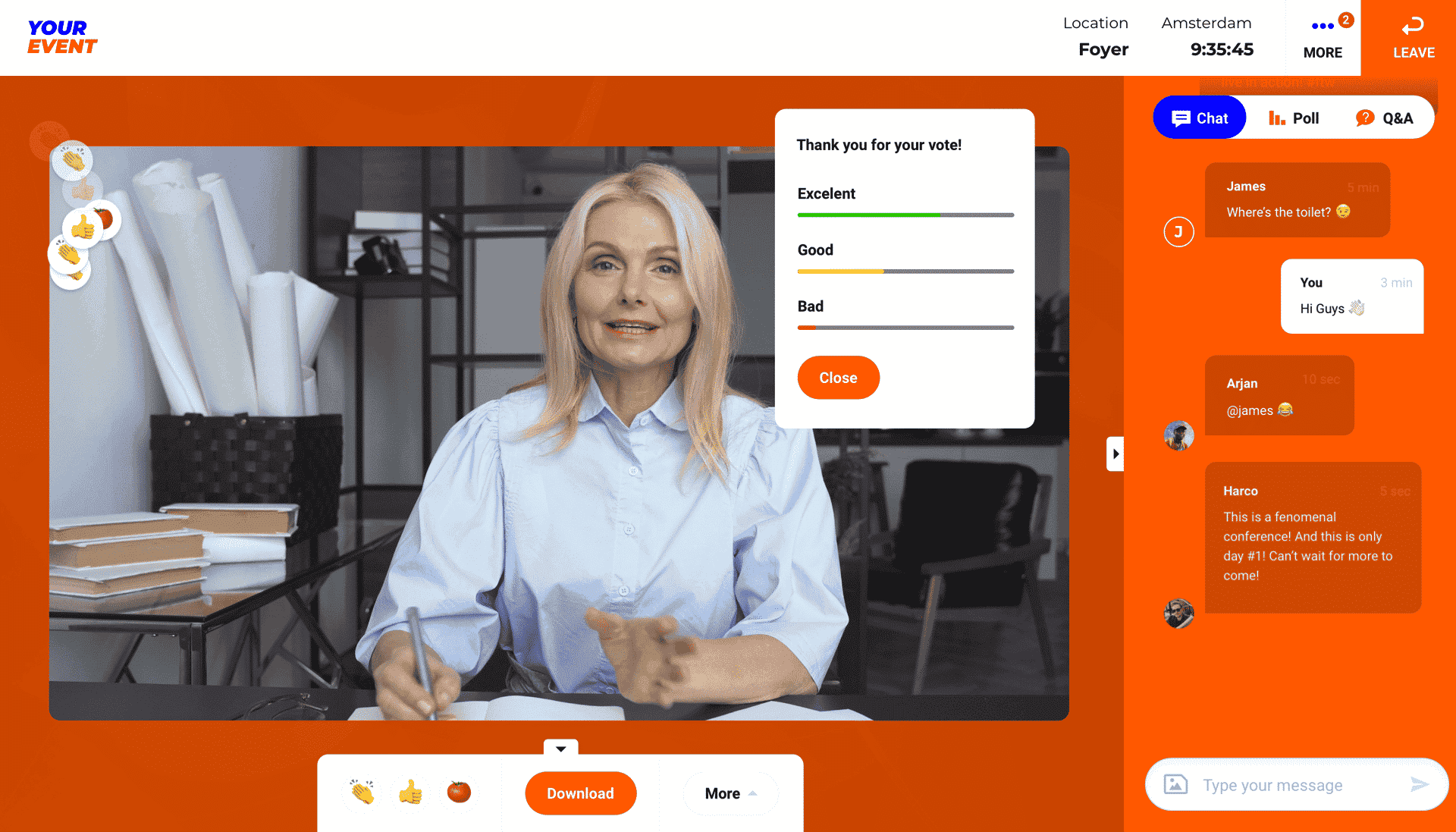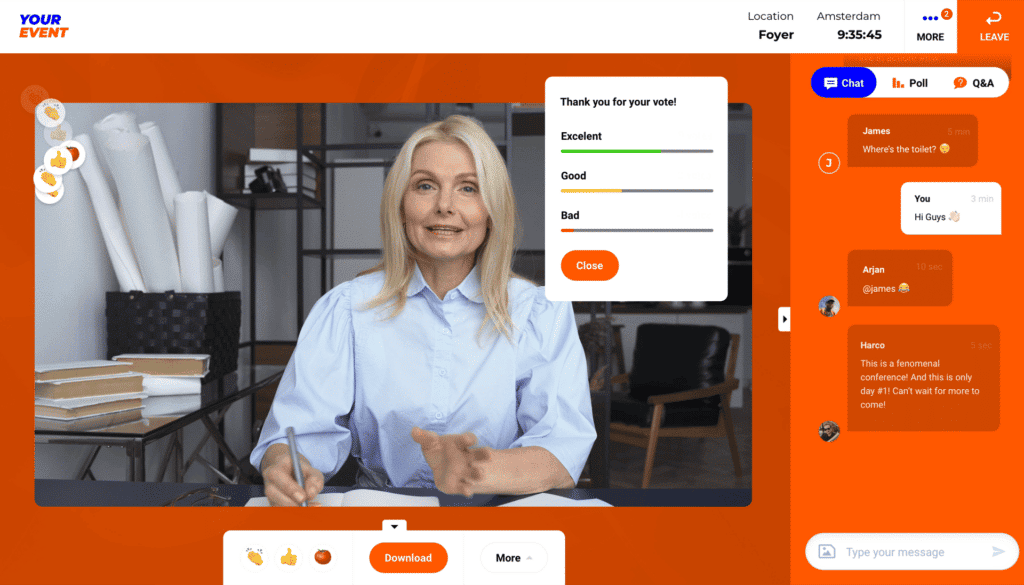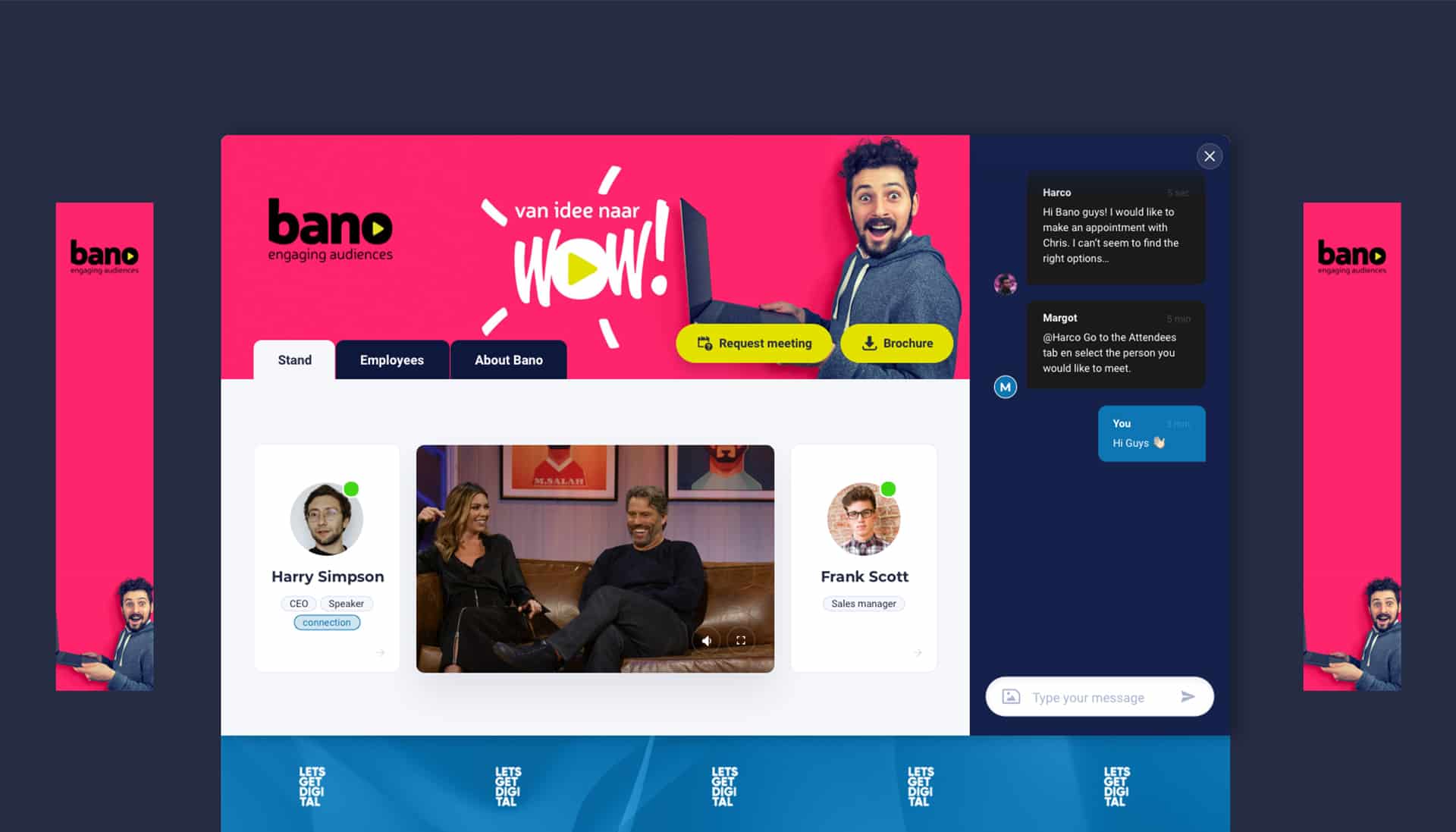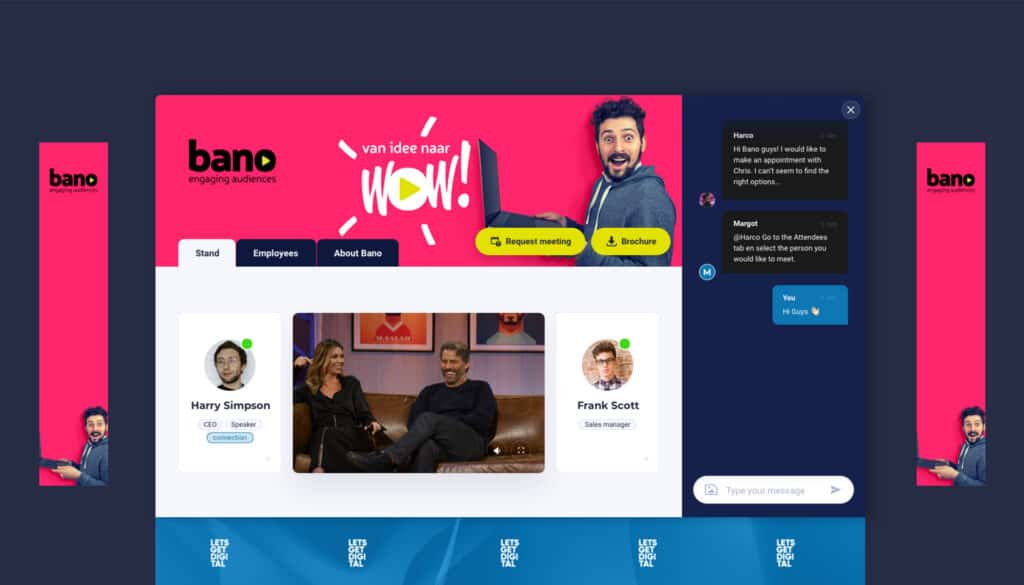 Sponsor and Exhibitor Features
Whether for monetization or showcasing your partner marketplace, you can benefit from a virtual event platform that offers virtual booths with video players and downloadable content. Only a handful of virtual event platforms take this even further by offering far more features for exhibitors, from dedicated staff to the possibility of scheduling meetings from the virtual booth, and lots more.
It's important to have the "feeling of physical" at your virtual event, so look for a platform that has advanced exhibitor options. Both you and your partners can benefit from the advantages of these features; by providing the solutions that your attendees need to engage with the booths and by generating leads for your exhibitors.
Attendee engagement and networking features
The main reasons that someone attends an event are to learn something and to network. Live polls and Q&As are nice for engagement, but attendees are also seeking to build valuable connections at the event. Your platform should offer next-level engagement features to establish the physical feeling for your attendees.
Live video chats, 1-on-1 or group meetings and something to create a sense of community are the must-have networking tools. Some of the more robust virtual event platforms even use AI to bring networking to the next level.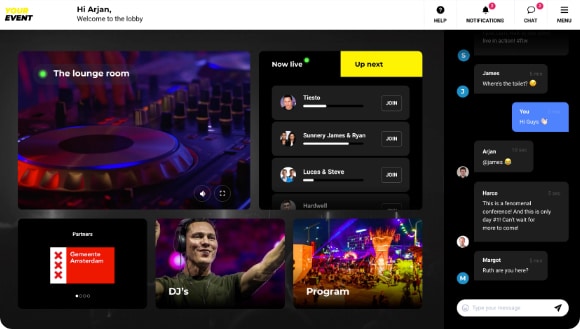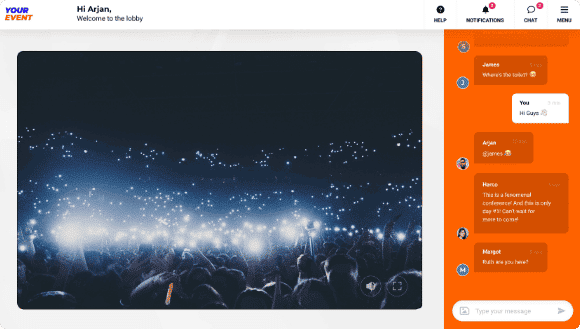 Of course, we left the most important consideration for last! Events are all about the experience; the biggest challenge of hosting an online event is to make it remarkable. You don't easily forget a physical event that you've attended – so how do you provide the same experience in a digital environment? There are many virtual event platforms with mainstream engagement features, but not many with special features that turn your attendees' experience into a memorable event.
At Let's Get Digital, we built unique features a.k.a our "fireworks" to blow your attendees away and make sure they will remember your event (above al others) for years to come. We believe this is how you can stand out with your event and make a difference.