Your ultimate onsite and hybrid event platform
Let's Get Digital is the perfect virtual congress platform. We can host your next congress on our platform with ease! Grant your visitors the ultimate event experience with the best ways to connect and interact. We'll take your virtual congress to the next level!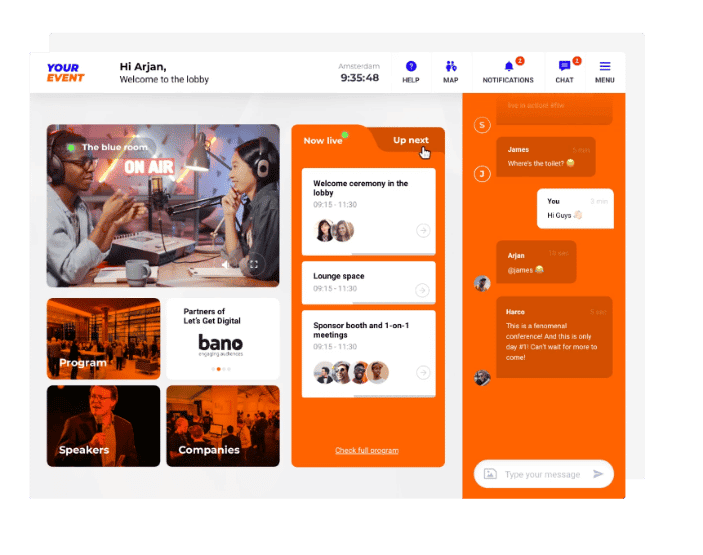 Shape the event to suit your needs
All the tools to stimulate interaction
Combine the best of both worlds!
Host on our hybrid event platform
With the world still under the influence of Covid, event organisers (including you!) are asking themselves the question: should I host my event offline, online or make it hybrid? Soon followed by: what kind of hybrid event platform should I use?
At Let's Get Digital we believe that a hybrid form of events is the way to go. It provides more inclusivity (more people can attend, from anywhere in the world), creates new opportunities for your brand to be seen online and is a sustainable solution.
Let's Get Digital provides a hybrid event platform that makes hosting a hybrid event easy and creates a seamless experience for the user. We've collected all our thoughts and incentives to go for a hybrid event in this blog, make sure to read up on it!
Let's fix you up with our hybrid event platform
Hosting a hybrid event grants you opportunities that are endless! We've put them to work in our hybrid event platform, so you can give your users the best event experience possible. If you're hosting on the hybrid event platform by Let's Get Digital, you will get:
Combined audience interaction
Show the in-person users that the online users are present, and vice versa! With a lot of engagement and interaction tools on our hybrid event platform, you can stimulate connections and create the ultimate event experience.
Amazing network experiences
Online users can have video meetings and join the networking carousel. When you are onsite you can book meetings with each other at the actual venue. You can already do this before the event actually started! 
Personalise the hybrid event experience by creating personalised schedules based on the interest and function of your users. Give the possibility to your online users to attend the sessions that are being hold on the onsite venue, and give plenty of tools to interact during the sessions. Our hybrid event platform has it all! 
Research has shown that the most common reason for organizers to setup a hybrid event is to give their users the option to either come to the location or to attend online.
experience
Let's Get Digital
yourself
See for yourself which features, networking moments and other options are possible, while directly exploring our hybrid event platform. Are you ready for our event experience?
*Leave your details to sign up for a free online demo event.
Attendees rated the expert session