Enhance the experience of your next event with the right hybrid event technology
Learn how to host a hybrid event using technology that improves engagement and heightens the attendee experience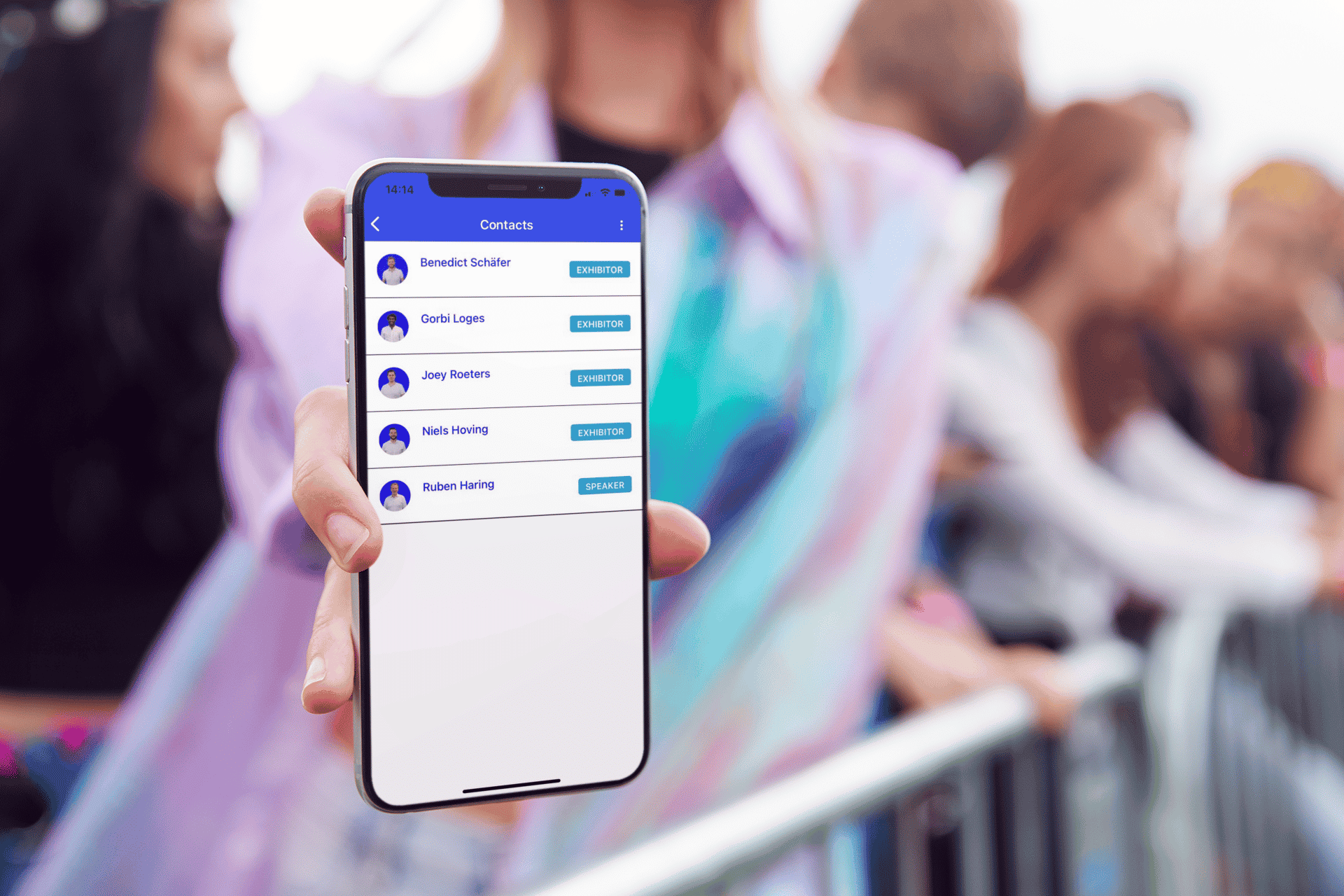 Technology is crucial when it comes to hybrid events. Without it you cannot broadcast your content to your virtual audience. But the role of tech in your event runs much deeper than that. The quality of your hybrid events platform will determine whether you achieve a cohesive message, a consistent look and feel and an outstanding experience for your attendees. It will be the reason why your event meets – or even exceeds – your targets.

Here, we give you the lowdown on hybrid event technology – the benefits of finding a good platform and the tools you'll need to make your event a success. We'll also cover what can go wrong and how to overcome these potential challenges.
Why use hybrid event technology?
There are a multitude of reasons why the hybrid approach is gaining traction. It can help you broaden your reach, gain access to the best speakers, improve value for sponsors and exhibitors, generate important customer analytics and make it easier to organise your next event. It even helps lower your carbon footprint.
The huge potential for increasing your brand's reach is the number one benefit of combining virtual and in-person events. With an in-person event you are bound by aspects such as event location, venue capacity and catering budgets. You are also at the mercy of uncontrollable factors such as weather and travel disruption. Of course, although technology will play a key role at your hybrid event you will still have to manage these physical elements. 

People love getting together and there will always be a demand for physical gatherings. But adding a virtual element gives you the best of both worlds. It allows you to break free of these boundaries, opening up your event to thousands of attendees, across different geographies and on different devices. All they need is an internet connection. 

By going hybrid, you are giving your audience options and that means maximising attendance and potential returns for your business.
Attract the best speakers
This flexibility doesn't only benefit the delegates. In the same way, having a virtual element allows you to sign-up speakers who live far away or don't have the time to travel to your location. Perhaps you've got a dream keynote speaker, a global icon – it would break the budget to fly them in for the day, but you can stretch to one hour of their time to speak online.
Add value for sponsors and exhibitors
Similarly, hybrid technology grants access to a wider range of exhibitors that could not attend due to location restraints. In turn, they get more brand exposure. At a physical event they can only target people walking by their stand, while at a virtual event they have a global platform from which to interact. Exhibitors could choose to have a dedicated physical and virtual stand at your event, giving them an even wider potential audience. With both physical and virtual space to rent this gives you the scope to offer different – potentially more lucrative – packages.
All these factors add up to more value-add for the attendees. They feel they're getting their money's worth, with access to all the added extras, from on-demand content and app features to worthwhile conversations with vendors and valuable networking opportunities. This gives you the potential to increase costs or tailor packages.
Lower your carbon footprint
This is an obvious – but important – one. By allowing attendees, speakers, and sponsors from further away to join virtually rather than travelling (whether by car, bus, train or plane) you are lowering your carbon footprint. It also means you minimise the impact of the physical event (heating, transportation, food waste and so on). At Let's Get Digital, we even provide a calculator tool so that the organiser – and their attendees – can calculate the environmental savings!
How does hybrid event technology support the event manager?
We've covered the broader benefits of having the best of both worlds. But how does the technology itself make your life easier?
Streamline event management
Sometimes hosting the physical and virtual elements of a hybrid event can feel like organising two separate events. It doesn't have to be like that. Having one hybrid event platform means you can manage everything from the same software, including on location. With your technology provider's support, it should not be much more work.
Features to support your goal and help you reach it
Your hybrid events technology provider should guide you, aligning your goals to the available features on the platform. Your online user might have multiple windows open on their computer while they're visiting your event – tech is your tool to attract and retain their attention. The sales team at your provider should be able to introduce you to a whole host of features designed to increase networking, provide meeting opportunities, generate a social media buzz, and generally create the wow factor.
With hybrid, you have an inbuilt statistics machine – gathering invaluable data from app usage both in-person and online helps you measure your performance against KPIs and gather feedback to improve your next event. You can export new connections and meeting notes in one click, making following up easy.
Unlike physical events where the venue and suppliers all need to be rebooked from scratch, once you've held one hybrid event, replicating a similar format is easy. You can copy the same environment – with reception area, branding and breakout rooms – and simply change the programmes.

In short, event planners are fully supported and can get much more done!
Hybrid event tech challenges and how to overcome them
Although tech brings many benefits, it also brings a unique set of challenges. Common technical problems boil down to two core elements – a lack of technical knowledge (the event planner or the delegates) and an interruption or breakdown in technology on the day.
Equipment and production problems
The quality of the production can make or break a hybrid event. Filming and streaming the content for your event and ensuring the right people get access to it at the right time involves a lot of technical know-how and logistics management. A degree of technical knowledge is required to set it all up and manage it. For the event planner, trying to take on too much of it yourself is one of the most common mistakes. Ensure you have the manpower to do this for both online and location.
Hiring a local audio-visual (AV) partner that can provide and set up all the hardware you need (cameras, microphones and lights for example) is the best route to a professional result.
If you're using large streaming services like YouTube, you can pretty much guarantee stability but it's important that your physical venue has a strong internet connection so that you can achieve link-ups between the two. Connecting online and on-site speakers is particularly challenging, for example, and requires a robust set up so both can hear and see each other.
Test all your hybrid event technology - then test and test again!
Online you can be more prepared than you can be in person. Use it to your advantage. 

With large streaming services like YouTube you so the only room for error is your knowledge of how to launch it. If you know how to do it, all should run smoothly.

Ahead of the event, dry runs are the most important defence against technical hiccups. Try everything out in the days and weeks before so that you're confident with using the technology and you know what might go wrong. Test the back-up options too.

The same applies to your guests. While your platform should be easy-to-use and provide inbuilt support and resources, pre-event communication and introduction to the platform is invaluable in overcoming any teething problems for the less tech savvy users.

On the day, nothing beats having an experienced virtual event manager on hand to troubleshoot any problems quickly.
The ideal hybrid events setup
So, what are the core elements to a good hybrid events tech setup? 
A platform that creates a unified experience
With hybrid event technology interaction between in-person audiences and virtual audiences is key. You want all your attendees to feel that they're part of the same event and have equal status. This means that the look, feel and user experience of the online or app part, must be spot on and the connection between online guests and on-site guests must be seamless. 
Features that maximise connections
Choose a hybrid event platform that provides engaging, unique experiences that ensure your virtual audience feels like it's part of the action. Maximise activities that both attendee types can participate in, such as live polls or sponsored quizzes, allow your virtual guests to send in questions for speakers and schedule meetings in breakout rooms like they would if they attended in person. Leverage social media and use branded hashtags – display this on a big screen at your on-site venue to get people talking. The possibilities are endless… 
Choose a local AV partner that can handle the set up and management of the tech on the day.
Choose a hybrid event management platform that can offer support for all these aspects in one package so there is no need to switch between multiple providers.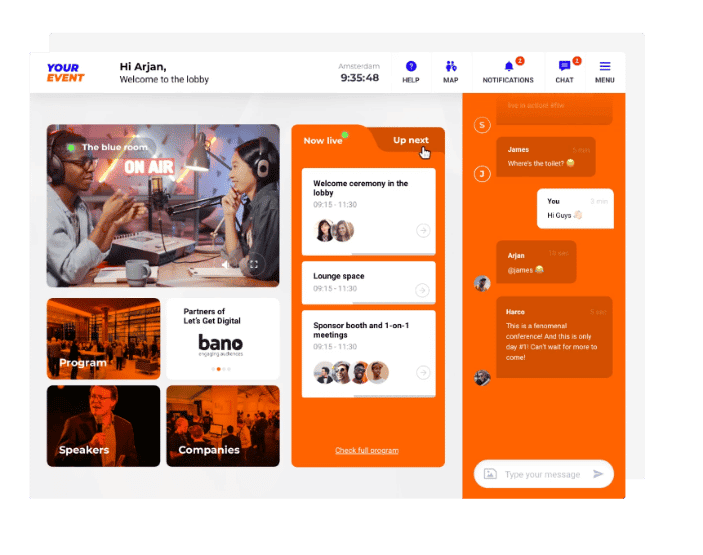 Want to explore your hybrid event tech options but not sure where to start? See here for our guide to selecting the right virtual event platform.