"On a physical stage, because of the bright lights, you often only see the first two rows. So, it won't be such a big difference."
René Lolkema (Business Coach and Team Coach) – Speaker during The Showcase of Niquell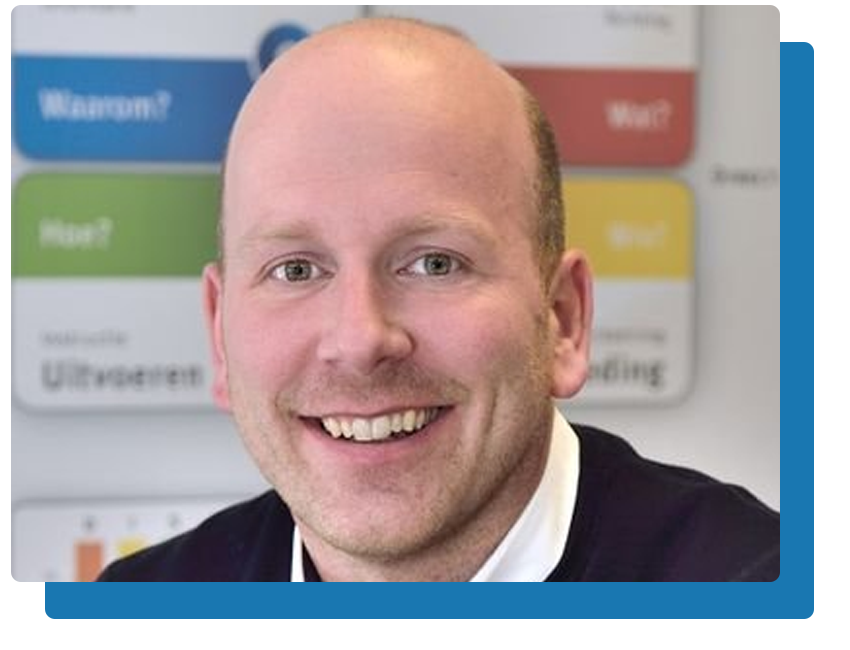 In the beginning…
I got the most business out of networking before COVID-19. But of course, giving physical workshops or coaching sessions became less and less possible with the pandemic. I then threw the ball to several people: "Are there any other possibilities for giving workshops?" That's how I ended up at Niquell.
Don't sit still, but move forward
I liked Niquell's mentality: don't sit still, but move forward, and make it happen. This mentality also fits well with the mindset of Let's Get Digital. I find the thought behind the platform very inspiring: "What can I do?" The idea of just doing things has inspired me to think outside-the-box as well.
Thinking commercially, I also figured, yes – this is really cool. This way, I can definitely put myself on stage. I have no idea who's looking at the stage when online, of course. However, on a physical stage, because of the bright lights, you often only see the first two rows – so, it won't be such a big difference.

The Showcase
During The Showcase event, I talked about DISC and effective communication in COVID-19 times. With effective communication, it's not just about what you say (the verbal aspect), but also how you say it (the non-verbal aspect). Due to the coronavirus, we see each other less often live, so the non-verbal aspect is largely absent.
This was of course an ironic subject, since I could not see or hear my audience during my presentation. However, this made it more difficult to read the audience and to identify their needs. Still, even in online communication, you can find out a lot about someone's needs; for example, by using certain words (in the chat) or intonation (during the network carousel).
Are we live?
Interaction was something else altogether. At the beginning of the presentation, I asked, "Are we live?" and got the first *ping* in the chat. Then, I turned on! The connection is there, but you also want to be able to talk to people.
Normally I try to appeal to everyone in a larger company. I base this on the DISC profiles. These profiles make a distinction between four communication styles and underlying needs. By responding to every need, I try to involve the audience in my story. This is what I did during The Showcase. Here, for example, I referred to certain Greek metaphors, which appeals to people with a yellow DISC profile. In this way I sought connection.
Of course, the response is a bit slower than during physical presentations; but even though it was minimal, I noticed that I really liked getting chat messages. That really energized me. There must have been people watching who thought 'gosh what a bouncy ball'!
During my presentation, one moment sticks out. Somebody came in to arrange something technical, and I was distracted by what he was doing. Then, without thinking at all, I even started talking to them. For a moment, I completely forgot that I was live.

The network carousel
I really liked the network carousel at the end. I could see in advance who had bought a ticket, so I already had an idea of the audience – but during the networking carousel, I could really spend time with them. There were people logged in from all over the Netherlands. That was so cool to see.
At first those people were sitting safely behind their screen and, *ping* suddenly I have a viewer sitting in front of me. It's more accessible than in real life, because there, you have to actually approach someone. I don't have a problem with this myself, but now you also come across people you might normally walk past. That surprise is nice.
The platform also makes it easy to network. At a meeting, you talk to a lot of people, and sometimes it's hard to find them. Now I can just scroll through the participants and add them on LinkedIn. I've already done business doing that.
For example, the other day I had a call appointment with a potential business customer. The subject of coronavirus came up, and I told them that a few weeks ago I was talking to a camera during an online event. Even before I could tell more about it, he suddenly interrupted me. What was it he wanted to say? He was at that event, and had already seen me live at the time. That was also the reason he had contacted me. Long story short: I've now just got a proposal from someone in the audience!

You can learn to innovate
The event gave me a lot of confirmation. For example, it is clear how much energy you can get from people who see opportunities, stay positive and are open to learn and make mistakes. The audience was also open to this. I found that very cool.
You become more innovative with what you do. Due to COVID-19, we stopped for a moment, but now we have advanced even further than we were before. Many parties are now in the game without looking around. But, we are curious and much more daring. Let's Get Digital offers these possibilities. I think it's really cool how they do it: don't sit still, but move forward and see what's possible.
There's a lot more you can do. We won't have to let that go when we have the chance to fall into our familiar structure. We have to take the learning curve with us. I do see a hybrid form happening. I certainly would bet a tenner on that. Travelling to a location and parking – that's a long way off. The limitation is only in your mind.