Get your free personalized demo
Get a tour around our platform in our personal, free demo! See all the tools come to life and create the ultimate online, in-person or hybrid event for you. During this demo you get the full scope of our platform and all the tools that benefit your event. This can range from a ticketing system to networking features and interaction possibilities. Request a demo below and … well, don't forget to ask about our earthquake feature!
Your ultimate
Jack-of-all-trades
We make sure your event gets the right tools and platform, whether it is hosted online, in-person or you've chosen to go hybrid. Each event has their unique opportunities and in this demo we will show you all the tools to make your event one to be remembered by millions. Curious to see what we can offer you, or how what it is we mean by 'hybrid'? Make an appointment for a free demo and get a tour around our platform and tools!
During this demo you'll experience:
The list of online features is endless - let's get through them!
The hybrid possibilities we offer to bridge the gap between the online and in-person
In-person tools that we provide, such as badge printing and ticketing
Fun! We keep it light and personalise the demo to your needs
These companies already work with us:
But… why a Let's Get Digital demo?
You get our undivided attention! In this demo we focus solely on your event. We are ready to find out all the why's about your event to adapt our platform exactly to your needs and wishes. It's about your event, after all. Let's have a conversation about:
We'll match you up with all the hybrid, online or in-person features that could make your next event one to be remembered!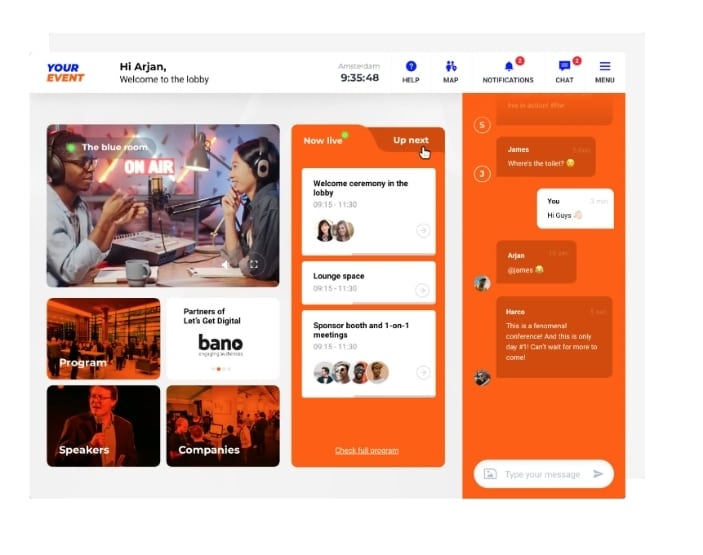 CEO, Lead Sales & Delivery